The Institute for Machine Tools (IfW) at the University of Stuttgart has more than 30 research assistants, conducting research in the areas of production engineering as well as the design and the optimization of machine tools.
The institute's board of directors consists of the Institute's Director Prof. Dr.-Ing. Hans-Christian Möhring, the Chief Engineer Dr.-Ing. Thomas Stehle and the Academic Director Dr.-Ing. Johannes Rothmund.
Contact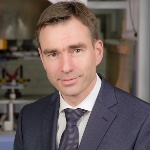 Univ.-Prof. Dr.-Ing.
Hans-Christian Möhring
Chair and Director