Stuttgart Centre of Excellence for Sawing
Sawing technology research for the benefit of the economy
Your advantages are:
- We promote and operate nationally and internationally networked, application-oriented research for the direct benefit of the economy in the field of sawing technology
- We contribute to competitiveness with system and technology oriented innovations for the sawmill industry
For our partners, we develop solutions in the field of sawing with highly qualified researchers in an integrated production process and accompany their implementation.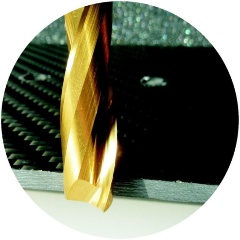 Center of Excellence for
Composite Materials
Centre of Excellence for Composites
Annual CFRP symposium
Components made of fibre reinforced plastics have arrived in many industries, have proven themselves and are manufactured in different quantities. The economical and reliable machining of these materials or material composites remains a challenge. How can manufacturing costs be reduced, throughput times be cut and how can quality be assured?